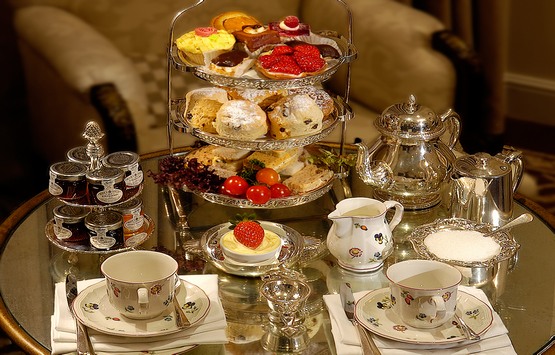 Afternoon Tea in Britain
WHERE WOULD YOU HAVE YOUR AFTERNOON TEA?
Another British tradition: Afternoon Tea or 5 o'clock tea is one the quintessential English institutions. We tell you the secrets and historical facts about this institution not just places to go.
The introduction of Afternoon Tea practice, a quintessential English tradition, would be attributed to Anna, the 7th Duchess of Bedford, in the early 1800s. To satisfy her appetite and deceive her boredom between lunch and dinner, Duchess imagines to be served tea, accompanied by a light snack. This new use quickly turns into a real fashion and Afternoon Tea quickly becomes a very good pretext to meet friends and get together to chat a little.
Today, some institutions have made it an art, offering moments "So British" to share with its close relations. Here is a Top 10 "Afternoon Tea" worthy of Instagram to enjoy and photograph throughout Great Britain.
Posh at the hotel London Edition
In the 19th century, "Scandal Water", literally the water of the scandal, meant tea in slang Explanation! In order to deceive boredom, London's high society gathered to chat and peddle salacious rumors ('scandal' which could be translated as 'gossip'). It is this tradition that Hotel Edition wanted to reinvent by associating five different teas with five sweet or savory dishes with which they marry perfectly. Delicious…
Fashion at the Berkeley Hotel
A must for instagram fans of fashion and gastronomy. The Berkeley afternoon tea, known as the Prêt-à-Portea, simply follows fashion. Here you can sample the finest pieces from the season's collections. Peach posses inspired by Balmain or high heels formed biscuits suggested by Manolo Blahnik: so many crazy creations to savor with a tea and a few champagne bubbles.
Take away at the Lancaster
With the very first rays of the sun, the London Lancaster offers an afternoon tea to go. Just order it and get it back at the bar, then cross the street to go to settle on Hyde Park's well-kept green grass. Packed in an elegant cardboard box: macaroons, scones, homemade jam, cream and iced tea! What to make jealous …
But also in a selection of London hotels, where to photograph, post and then enjoy tea: the Dorchester, the Milestone, the Connaught, the Claridge's and the Ritz, of course.
If you would like to experience the Afternoon tea, outside of London at the countryside.
Traditional in Chatsworth House (Derbyshire)
Chatsworth House is a majestic Peak District mansion, Wedgwood an eminent British porcelain brand. Together, they created The Flying Childers, a traditional chic tea room where the dishes served are colored and refined.
Design at Wedgwood (Staffordshire)
It is in Stoke-on-Trent that is the pretty world of Wedgwood, famous brand of English porcelain. At the Wedgwood Tea Emporium, sommeliers offer a selection of fine teas to enjoy with some delicacies. But the real celebrity is this refined dish where scones and cakes enthroned, a dream of instagrammer. Before heading out, head for the shops of the factory for tea service and perpetuate this elegant tradition at home.
Starred at Lords of the Manor (Costwolds)
Scones, jam and clotted cream directly from a kitchen of the Michelin starred chef Richard Picard-Edwards. The Lords of the Manor's afternoon tea is as good as it gets, with the creations of pastry chef Kris Biggs who will best accompany the rare teas served by the fireplace or in the garden depending on the season.
Scottish at the Glass House in Edinburgh
Spend an afternoon sipping tea with tarts and scones in the luxurious Glass House in Edinburgh is great … but enjoy Scottish specialties like haggis, lamb, Cullen Skink, a soup with the haddock, or the Whiskey Tablets is better and it is on the carte of this afternoon tea so Scottish, what else more to impress his friends on Instagram.