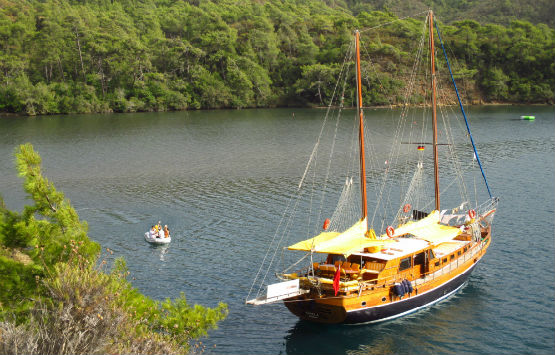 CRUISING TURKISH AEGEAN IN STYLE
CRUISING AEGEAN GREECE & TURKEY BOUTIQUE STYLE… Sailing by Gulet yacht is quite simply a perfect way to visit the Aegean Coast of Bodrum and the nearby Greek islands. No carrying luggage, no catching ferries, and no need to keep track of time, means that there is so much MORE to experience of the Dodecanese islands' authenticity, stunning natural landscapes, and an unaffected character that lends absolutely everything to their charm.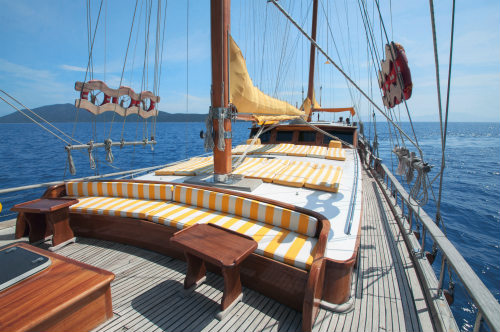 While island hopping and exploring the coast, you can anchor in some of the most secluded spots, which let you really get the feel for the places that most visitors leave at sunset. We give you a boutique version of Island hopping, discovering historical sites, tiny harbor villages, untouched beaches and bays, and a choice of great activities; all while making yourself at home in the spacious comfort of your luxurious private cabin. On board you enjoy the relaxed company of your fellow guests, large lounge areas and deck, immaculate crew service, and magical feast after feast on board each day for breakfast, lunch and dinner.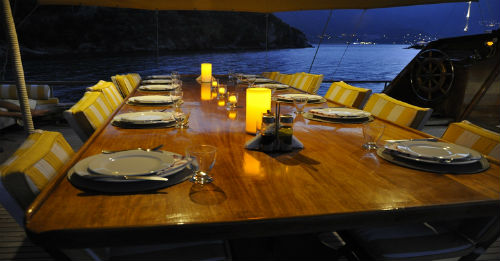 The Aegean Coast around Bodrum offers some of the most pristine and beautiful bays and coves. The Blue Voyage was first made famous here where cross winds are excellent for sailing, the idyllic bays are secluded and fringed with dramatic pine forested coast lines. The Dodecanese islands that we visit are a loose collection in the Aegean Sea, situated off the west coast of Turkey, between Patmos and Kalymnos. These islands offer a tranquil, picturesque charm that has almost vanished from many of the better-known Greek island resorts. The footprints of cultures from the Greeks and Romans to crusading medieval knights, and from Byzantine and Ottoman potentates to 20th-century Italian bureaucrats are all found here, along with many remote islands that are begging to be explored.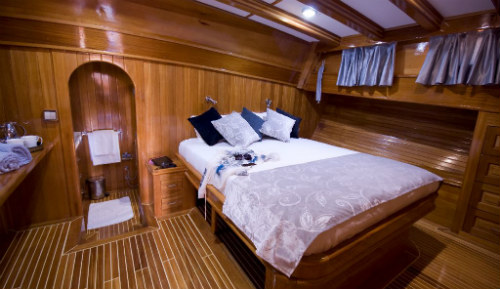 LUXURY CABIN CHARTER BOUTIQUE STYLE: Wake up on board to the warm Aegean sun and crystal clear waters each morning, relax into the rhythm of life on the sea, and enjoy some wonderful sailing between the islands. Disembark to explore the white-washed Greek towns and harbors, boutique shopping, fabulous culinary experiences, and to soak up the unique atmosphere of the Greek Islands. While away your time on board relaxing, dining with your friends and group, reading, pulling anchor to explore some of the stunning bays for swimming whenever the mood takes you. Our excellent crew will look after you wonderfully throughout your trip.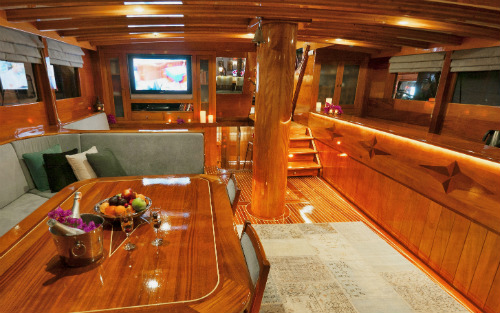 Guests book deluxe cabin-only which offers a cruise holiday experience like no other with all the 5-star comfort and luxury amenities of a private charter. This affordable vacation option is ideal for singles, couples or small groups. Children from 8 years of age are welcome. The guests you join on board are international, and we bring together like-minded travellers, often of similar ages, in order to create the best, shared experience possible.
check two of our cruises and contact us for more details or a private boat rental